NU-BIG
NU-BIG –Follow-up study of the BIG-project (NU-BIG)
---
Within the research project "NU-BIG", we comprehensivly evaluate the BIG-project.
The aim of the study is to gain insights into the long-term preventive effects of BIG on individual and community level as well as its transferability.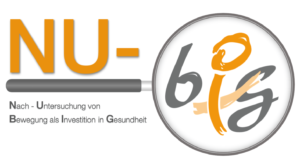 Research Questions

behavioral level


Does BIG succeed in reaching women in difficult life situations sustainably?

Which long-term effects have been achieved in terms of the health?

What economic effects can be obtained?

community level

Does BIG sustainably change municipal structures for health promotion?

Under which conditions does the sustainable implementation of BIG suceed?

What costs are required for the (sustainable) implementation of BIG in municipalities?

Transferability of BIG

Which conclusions can be drawn from these results for a successful transfer to other sites?
Research Methods

Prävention

We apply a mixed-method approach, i.e. we combine qualitative and quantitative methods.

We will use data re-analysis, questionnaires, interviews, focus groups and the Photovoice approach.

A total of about 800 women who participated in the offers and 50 decision-makers will be surveyed.

An essential component of BIG is the participation of the recipients.

Therefore, woman participating at the BIG-offers are members of the research group of NU-BIG and are involved in planning survey instruments and implementing the study.

In addition, the women receive the opportunity to demonstrate the benefits of the BIG project from their point of view.
---
The entrepreneurial University Munich is responsible for the health economic evaluation
The university of Regensburg takes over the qualitative evaluationn
NU-BIG wird für die Dauer von 3,5 Jahren vom Bundesministerium für Bildung und Forschung gefördert.